Never stress about a missed pill again.
On the birth control pill? Get peace of mind with Aavia's Smart Birth Control Pill Case. Never miss a pill again with our patented case + the Aavia app. We'll remind you to take the pill on time, every time.
Check out our bundles below for more color options! 🌈

On Android? Sign up for our waitlist!
Other Options
Outer Shell
Swap out case colors! 🌈

Duo
A full case + an extra outer
Trio
A full case + 2 extra outers
Slide your pills in
The case fits any pills you already have, as long as they come in a rectangular pack.
The case reads your pack
Our top secret sensor tech is triggered and a little green light flashes.
The case syncs with your app via Bluetooth
Always wondering whether you've taken your pill? Now you'll know when you took it, right down to the minute.
No snooze reminders
If you haven't taken your pill yet, the case + app knows, so it'll keep sending your reminders - no snoozes!
See 2x improvement in taking the pill
Aavia members are 2x more consistent with taking the pill just after a week. We dare you to beat the longest pill streak we've seen from our members: 433 days in a row (and counting 👀)
Our members love their Smart Pill Packs
How Does the Pill Case Work?
The pill case contains patent-pending sensors that sense when you slide your pills in. Our case fits most birth control pill brands—as long as your pills are smaller than the case, the case should work!
The electronic pill case also contains Bluetooth that connects to your app, just like how your Apple Watch or Fitbit communicates with your phone. When you slide your pills in, the case records the time and sends that information to your phone. Now, you'll know the exact minute you took your pill, which means no surprises and no freakouts.
Plus, the pill case is much cuter than your average blue pouch you get from the pharmacy (c'mon, you know it 😉). If you decorated your case in some way, shoot us a pic to support@aavia.io and we might feature yours on our social 👀
Outer Case
$14.99
Hoodie
$45
Hoodie
Purple hoodie with heat pressed "hormonal is human" text, three icons, and Aavia logo. Extra comfy fuzzy lining inside! Runs in women's sizing and purple is darker IRL.
FREE shipping within the U.S.
Socks
$15
Socks
Electric blue athletic crew socks with neon "hormonal is human" text and Aavia logo. Extra durable yet extra comfy. Made of 80% acrylic / 20% nylon & elastic blend.
FREE shipping within the U.S.
M = women's shoe size 3-8, men's 4-9
L = women's shoe size 9-12, men's 10-13
Dad Cap
$25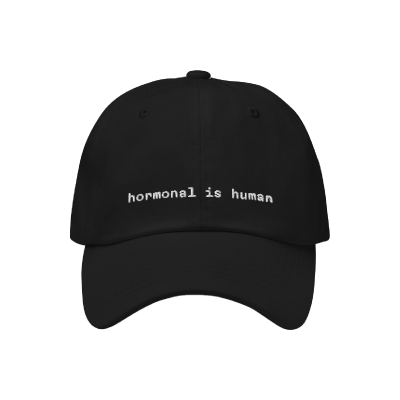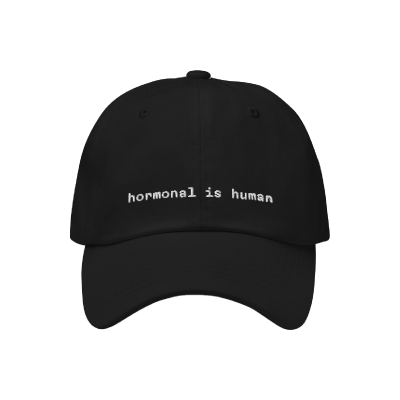 Dad Cap
Black dad cap with white "hormonal is human" text embroidered in the front and three white icons embroidered on the back. Made with 100% chino cotton twill.
FREE shipping within the U.S.
Donate to Texas
$10
Donate to Texas
Donate to sponsor a Smart Birth Control Pill Case for someone in Texas! With every $40 donation, we'll send a free case to someone in Texas.